My Podcast is about Empowerment.
Episode 16 - Conversation with Tal Dew Shaish - "The 12 Keys to finding Love in Less Than 300 Dates"
Gaby Abdelgadir
Jun 25 2017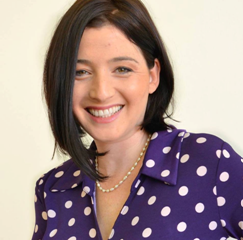 Tal Dew is a personal coach and mentor, training her mentees to better interpersonal communication, leading them to breakthroughs in their personal and romantic lives. With many (many) years of bachelorettehood, endless relationships and dates under her belt, Dew brings a unique outlook on the world of older singles, and on interpersonal communication between couples.
Her outlook draws from modern western knowledge, Buddhist concepts, and personal and professional experience, all while incorporating the skills and know-how from the worlds of writing and theatre.
Tal Dew coaches singles towards finding their relationships, and coaches couples on building better communicative foundations within their relationship, in accordance with the MPowreCouple model which she has developed. She also gives lectures and workshops which are relevant to daily life. As a lecturer she is energetic, humorous, theatrical and insightful. Drawing from her experiences as an older single woman, and her deep understanding of the bachelors' life, Dew has created The MPower Journal Towards an Empowering Relationship, which gives tools for intuitive, healing writing, and is itself a tool for introspection and empowerment towards finding a relationship. Her previous collaborations include retirement homes, HMO's, law enforcement agencies, teacher training institutes, and of course singles and couples.
Dew has her Masters' in sociology with a focus on organizational consulting, and her Bachelors' in education and theatre. She is an accredited group facilitator and mentor for couples. She is the author of the book: The 12 Keys to finding Love in Less Than 300Dates. She teaches in George Brown College as well as Centennial College in Toronto.
She lives happily in Toronto with her husband and two children.
www.mpowercouple.com

About Gaby Abdelgadir
Gaby Abdelgadir is an Author, Entrepreneur, Life Coach and a Motivational Speaker. Obtaining her Business Administration Diploma in London, England, Gaby has extensive experience working with many Corporate Companies as a Legal Assistant and Executive Assistant in three different countries. In 2014, Gaby released her first book "Grace Peace Balance – Surviving and Thriving Against All Odds", foreword by Bob Proctor, featured teacher in the hit Movie "The Secret" and Best Selling Author of "You were Born Rich". Gaby is a member of Toastmasters and is an awarded Competent Communicator and Advanced Leader Bronze (ALB). In addition, Gaby is a Licensed Life Insurance Representative. Raised by a single mother and now a single parent herself, Gaby has learned the secrets to overcoming the daily life challenges and she is now passionate and determined to help struggling women, men and single parents live a meaningful and happy life.
Click here to see the full author's profile
Recent Episodes
Episode 19 - by Gaby Abdelgadir - You Are Not Alone - Part IV
Episode 18 - Conversation with Janet Heidker - "You Are Not Alone" - Part III
Episode 17 - Conversation with Jennifer Kiyonaga - "You Are Not Alone" - Part II
Episode 16 - Conversation with Tal Dew Shaish - "The 12 Keys to finding Love in Less Than 300 Dates"
Episode 15 - Conversation with Thea Cosma - Feng Shui and its Benefits
Episode 14 - Conversation with Linsey Fischer "You Are Not Alone" - Part I
Episode 13 - Conversation with Kimberly Drummond - "Discovering Your Passion" - Part I
Episode 12 - Conversation with Leigh Burton - "Letting it Go"
Episode 11 - Conversation with Claudia Harvey - "You have a business idea.... now what?"
Episode 10 - Introduction: Who is Gaby Abdelgadir - Part II